Congratulations!

You just qualified to receive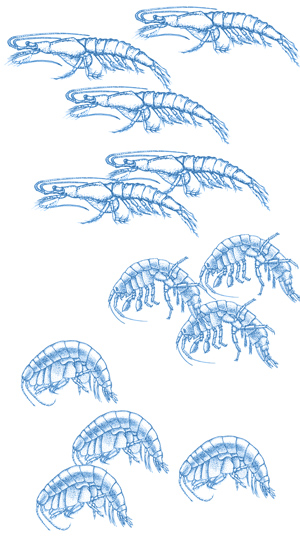 200 free Mysid shrimp
Americamysis bahia with your next purchase!

Don't use mysids in your testing regime?
You can substitute the following MARINE or ESTUARINE Amphipods:
200 Leptocheirus plumulosus OR
100 Ampelisca abdita OR
200 Hyalella Azteca, lab raised at 10 ppt.
Need FRESHWATER ORGANISMS instead?
Substitute:
1 starter culture of lab reared Daphnia: D. Magna, D. pulex or Ceriodaphnia dubia OR
200 Hyalella Azteca, OR
100 Neocaridina denticulata, The Japanese "Cherry Shrimp"
You can even get TERRESTRIAL ORGANISMS.
1 Folsomia candida, mixed aged Springtail starter culture.
**Disappointed it's not a platter of boiled Penaeid shrimp with cocktail sauce? Well, see the offer below **
Terms and Conditions:
Customer must mention the "SETAC SHRIMP SPECIAL" when ordering to qualify for this promotion.
Customer responsible for all shipping costs. ARO ships by Federal Express Priority Overnight to guarantee live delivery of your organisms.
One free offer and shipment per customer, per location.
SETAC Special Shrimp Offer expires on May 30th 2018 and must ship prior to this date.
**ARO will enter the names of all customers who participate in the SETAC SHRIMP SPECIAL into a random drawing to win a "real" shrimp cocktail platter, shipped to your location, courtesy of ARO